Experience, Exceptional Respect, Care, and Appreciation. At Allure Healthcare, we value our employees and prioritize their well-being. Our management team fosters a culture of respect, where every employee opinion matters. We listen to your concerns with genuine interest and provide the support and guidance you need to succeed. Our caring and approachable personality shine through in how we treat our staff and residents. When you join Allure, you become part of a team that truly cares, and it reflects in the way we run our facilities and treat our employees. Feel appreciated, respected, and lucky to be a part of the Allure family.
Empower Lives, Make a Difference!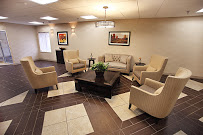 Allure healthcare is undoubtedly the best company. Its young, accepting, caring and selfless. The residents come first. The staff is given the appropriate amount of support and treated as family.
My experience with working with Allure has been exceptional because the management treats me with respect and treats me like my opinion matters.  They make staff feel appreciated and listen to their concerns with actual interest.  When you ask for help, they give you advice or help with any problem or concern that you might have.  I honestly feel appreciated and respected by Allure and love working with Allure due to their respectful, caring and approachable personality.  They care for their staff and residents, and it shows how they run their facilities and treat their staff.  I feel very lucky to work for Allure and run one of their amazing facilities.